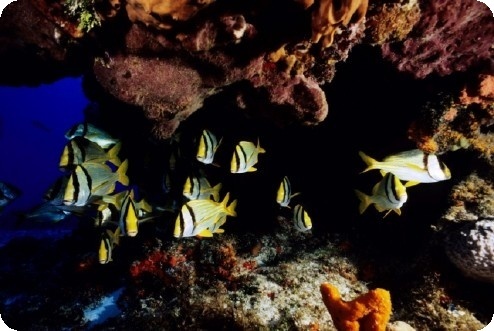 Outdoor Excursions on Grand Cayman
Stingray City makes for a great afternoon excursion with or without children. Visitors can touch and feed stingrays in their natural habitat. It's truly a great experience for everyone.
Nature lovers should be sure to visit the beautiful Rum Point or Queen Elizabeth's Botanical Park. Both offer great views and are lovely places for a stroll.
For a more vigorous hike, check out the National Trust's Mastic Trail. It's a two mile hike through woodlands, mangrove swamps, and rock formations and takes about three hours. You can go it alone with a $5 guide book or use a tour through the National Trust for $45.
The Turtle Farm ((345) 949-3894) is home to 21,000 turtles, most of which are Green Sea turtles. With numerous things to do such as picking up the turtles and seeing them at various stages of breeding, this is an experience you will never forget. Open daily 8:30 AM-5:00 PM.
Boat Trips on Grand Cayman
Glass bottom boat trips and submarine excursions bring the sea to life for those who prefer to stay dry in their explorations. Atlantis Submarines offers trips along the Cayman Wall to look at the beautiful reefs. Go down 100 feet and view the beautiful reef. The trip lasts 75 minutes and is $84. A more private excursion is also available in a mini-sub with just you and one special person. You'll go down 800 feet to view huge sponges and fish. The cost is $395. Bubble Sub offers a similar private excursion in a clear dome with 360 degree views for $400. The Jolly Roger is a favorite among kids. The boat is a replica of the Nina (of Columbus' Nina, Pinta, and Santa Maria fame), and excursions feature a pirate show and snorkel stop. Dinner cruises are also available. Red Baron Charters offer 39 foot sail boats that can be chartered for a half or full day.
Scuba Diving on Grand Cayman
The Cayman Islands have the best underwater visibility of anywhere in the Carribean at 120 feet. If you are a diver, you absolutely must take advantage of this and explore the beautiful depths around the Cayman Islands. North Wall is a world-famous dive area on the north side of the island, while Trinity Caves is in West Bay. Stingray City is in the North Sound and offers a spectacular 12-foot-dive into a community of stingrays. But if you aren't a diver, don't fear! Lessons and certifications in scuba are available on the island.
Snorkeling on Grand Cayman
Not interested in going so deep? You can still enjoy the beautiful healthy reefs of the Cayman Islands by snorkeling. West Bay Cemetery, just north of Seven Mile Beach is a great snorkeling spot. Several companies offer snorkeling trips. A favorite is Surfside Aqua Sports, which features a kayak trip out to a platform at a barrier reef where you can then snorkel.
Fishing on Grand Cayman
The water around the Cayman Islands are rich with fish. Charter a boat and choose from deep sea fishing, reef fishing, bone fishing, fly fishing, or tarpon fishing. Some of the varieties you're likely to see are blue marlin, yellow fin tuna, black fin tuna, dolphinfish, bonefish, wahoo, and skipjack tuna.
Cayman Islands Water Sports
Cayman Islands Water Sports
Find out why the Cayman Islands are world-renowned for their diving, snorkeling, and other water sports!
Diving equipment is available for rent, and diving instruction is available to visitors who want to learn to dive. Dive operators can take you to any of the hundreds of dive sites in the Caymans for the underwater experience of a lifetime. There are too many dive operators to list here; you should have no trouble finding them. Just beware - a few companies have disproportionate numbers of divers to instructors - look for one that does dives in smaller groups.
You don't have to be a diver to enjoy the breathtaking underwater beauty surrounding the Cayman Islands. Snorkeling equipment is available for rent and for purchase, and most dive operators and boat charter companies offer snorkel trips. Or, simply rent some equipment, find a beach, and wade offshore. West Bay Cemetery Reef, Smith's Cove and Eden Rock are good bets.
Sailing is another way to take advantage of the sparkling waters. Rent a sailboat, anchor in a shallow spot, and snorkel or swim to cool off. If you'd rather let someone else do the sailing, a number of operators offer sailing trips including day sails and sunset dinner cruises. If you have a "need for speed," speedboats and jetskis are also available. Just remember to watch for "divers down" flags and to respect swimmers.
Parasailing offers an unforgettable experience as you rise about 200 feet above the water, towed by a speedboat, with your parachute gently lifting you. You can enjoy the ride (and the amazing views) by yourself or with a companion.
Windsurfing is gaining in popularity, and lessons are available for beginners, teaching them to stay upright and steer the sailboard. More experience windsurfers tell us that the strong winds of the east coast of the island are the most exhilarating.
The Cayman Islands are well-known in the fishing world as well, offering deep-sea blue marlin fishing, lagoon bonefishing, and everything in between.
Other water sports include kayaking, water skiing, knee boarding, banana boat rides, glass-bottom and semi-submersible boat rides, and submarine dives to up to 1,000 feet. Most of the glossy tourist magazines that you'll find once you arrive will have more details about all of the above water sports.
Cayman Islands Activities
Cayman Islands Activities
Beachcombing, snorkeling and scuba are the most popular activities on the Cayman Islands, but there are plenty of other options if you need a break.
The 65-acre Queen Elizabeth Botanic Park, located on the Queen's Highway and open 7 days from 9-5:30, is a lush and colorful park with many native plants, flowers, and wildlife. Call

(345) 947-3558

for more information.
The two mile Mastic Trail passes through Royal and Silver Thatch Palms, Black Mangrove wetland, and dry woodland. Not suitable for children under 6 or the elderly. Contact the National Trust (

(345) 949-0121

) for a guided tour or a self-guided pamphlet. The National Trust has also produced self-guided walking tour booklets for George Town and Central West Bay, providing explanation and anecdote.
Pedro St. James, built in 1780, is the oldest stone building in the Cayman Islands. It was fully restored in 1998 by the National Trust, with a visitor center, state-of-the-art multimedia theater, gift shop, caf, and gardens. Open 9-5 daily. Call (

(345) 947-3329

) for information.
The Turtle Farm (

(345) 949-3894

) is home to 21,000 turtles, most of which are Green Sea turtles. You can pick up the turtles and see them at various stages of breeding. Open daily 8:30 AM-5:00 PM.
Pirate's Caves (

(345) 947-3122

), located in Bodden Town, are a series of underground caves where legend has it that pirates hid their treasure.

A number of companies offer horseback riding for novices to experienced riders. Call Honey Suckle Trail Rides (

(345) 947-7976

), Nicki's Beach Rides (

(345) 945-5839

), or Pampered Ponies (

(345) 945-2262

).
Cayman Island Tours
Cayman Island Tours
There are a number of tour operators offering sightseeing tours and custom tours. Contact Majestic Tours (

(345) 949-7773

), Reality Tours (

(345) 947-7200

), Tropicana Tours (

(345) 949-0944

) or Webster's Tours (

(345) 945-1433

).
If you want to get a bird's eye view of Grand Cayman's hottest spots, consider a helicopter tour. Aerial tours are very affordable and include free shuttle service from Seven Mile Beach. Contact Cayman Islands Helicopters (

(345) 943-4354

).