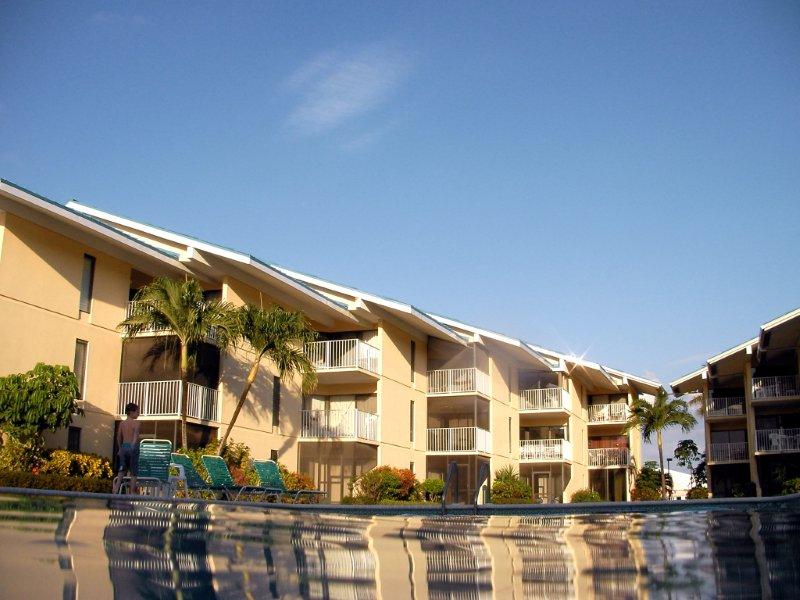 Welcome to Grand Cayman Island
The Cayman Islands are widely regarded as one of the best scuba diving destinations in the world. Sugar sand beaches, crystal clear waters, friendly locals makes the Cayman Islands a safe and beautiful haven for tourists. During your stay on Grand Cayman Island, relax on Seven Mile Beach or take a dip in the large salt water pool at the Cayman Reef Resort. It will be all you need to make your vacation a relaxing and spectacular one. If you are in the in the mood for a little more adventure, Grand Cayman has plenty to offer. From spectacular golf courses to world reknown scuba diving and snorkeling spots, you are sure to find everything you want on Grand Cayman Island.
Cayman Island General Island Information
The Cayman Islands are a peaceful British Overseas Territory in the western Caribbean. The island country consists of Grand Cayman, the largest and most populous island, and Cayman Brac and Little Cayman, which lie roughly 89 miles east-northeast of Grand Cayman. The three islands are the tops of an undersea mountain range called the Cayman Ridge. Due to the porous nature of the limestone rock that the islands are formed from, they lack rivers and streams. The fact that there's no runoff gives the surrounding Caribbean Sea spectacular visibility, often over 120 ft. Combine this with the healthy coral reefs that lie close to the shore and the beautiful sun-kissed beaches, and it's easy to see why the islands are an ideal location for diving, snorkeling, and sportfishing. Grand Cayman is the home of nearly all of the islands' rental villas, with a plethora of activities and points of interest and all the modern conveniences to make your stay comfortable. George Town, the capital city, boasts some of the finest dining and shopping in the Caribbean.
Population:
roughly 45,436 (2006 est.)
Size:
262 square kilometers or 100 square miles

Highest Point:
The Bluff (Cayman Brac) 43 m
Currency:
While the Cayman Islands has its own currency, the Cayman Islands dollar, it is not necessary to exchange your US dollars into CI dollars when visiting. The CI dollar has a fixed exchange rate with the US dollar: CI$1.00 equals US$1.25 or US$1.00 equals CI$0.80. Most retailers quote their prices in both CI$ and US$, and you can pay in either currency. Be prepared to receive change in CI$. Major credit cards (except Discover) are also widely accepted.
Entry Requirements:
Entry requirements vary for each destination; it is your responsibility to verify you have the correct documents prior to travel. After 31 December 2006 a valid passport is required for travel to all the Caribbean and Mexico.
Time Zone:
Cayman Islands Standard Time is 5 hours behind Greenwich Mean Time (GMT-5). Cayman Islands Time does not operate Daylight-Saving Time.
Driving:
Driving is on the left-hand side of the road in the Cayman Islands.
Voltage:
The Cayman Islands use the same electrical standards as the USA - 110 volts, 60 Hz.
Language:
English is the primary language.
Cayman Islands History
Cayman Islands History
Christopher Columbus discovered Little Cayman and Cayman Brac in 1503, and named the islands Las Tortugas for the numerous sea turtles he saw. The islands later became known as Lagartos, meaning alligators or large lizards, but by 1530 they were known as the Caymanas after the Carib word for the marine crocodile that lived there.
Sir Francis Drake was the first English visitor to the islands, in 1586. During the 16th, 17th, and 18th centuries, the islands served as replenishment centers for ships, providing fresh water and food, including sea turtles and wild fowl.
In 1670, Britain took control of both the Cayman Islands and Jamaica with the Treaty of Madrid. Over the next sixty years, the islands would become a popular hideout for pirates. The first permanent settlement of the islands began in the 1730s. Settlers came from Britain by way of Jamaica. Early settlers made their living exporting turtle and cotton, and raising a number of crops for their own consumption.
The Wreck of Ten Sail has become a famous incident in Cayman Islands history. In 1794, ten vessels on their way from Britain to Jamaica hit a reef at East End, Grand Cayman. With the help of settlers, no lives were lost. According to legend, there was a member of British royalty on board, and in gratitude for the settlers' bravery, King George III granted the Caymans freedom from military draft and taxation. No real evidence has been found for this claim.
The "Birth of Democracy" in the Cayman Islands took place in 1831, when residents decided in a meeting that representatives should be appointed from five districts in order to form local laws for better Government. Elections took place five days later, and less than a month after the meeting, the Legislative Assembly met for the first time in George Town.
Though many of the islands' early settlements did have slaves, slavery never reached the harsh and oppressive conditions that many other Caribbean islands exhibited. Nonetheless, the emancipation of slaves throughout the colonies in 1835 is a notable event in Cayman Islands history.
In 1863, Cayman was placed under direct control of Jamaica, and in 1898 a commissioner appointed by the Jamaican Governor took over administration of the islands. In 1962, Jamaica gained independence from Britain, and the Cayman Islands broke administrative links with Jamaica, opting instead to become a direct dependency of Britain. The chief official of the islands was the Administrator until 1971, when the first Governor took office. Although Jamaica and the Caymans are no longer linked administratively, the islands continue to share many other experiences, such as membership in the Commonwealth of Nations and a common church (The Church of Jamaica and the Cayman Islands). A large portion (around 40%) of the Cayman Islands population is of Jamaican origin.
The two main industries in the Cayman Islands today are tourism and international finance. The Tourist Board, formed in 1966, launched the tourism industry while the banking industry saw its start in 1966 when the first banking and trust laws were passed.
Cayman Islands Security & Health
Cayman Islands Security & Health
Guests of Cayman Islands vacation villas will find that the islands are relatively safe and secure. Keeping these few health and security concerns in mind will help to ensure that your vacation is enjoyable and hassle-free.
As is true for any vacation destination, we recommend keeping your villa and your rental car locked. Pick pocketing and petty crime do (rarely) occur on the Grand Cayman, so use common sense. Do not leave valuables unattended on the beach.
Do not underestimate the power of the Caribbean sun - many a traveler has had his or her vacation spoiled by painful sunburns or sunstroke. Protect yourself with sunscreen and avoid the strong midday rays.
On average, about one American citizen per month drowns or suffers cardiac arrest while snorkeling or SCUBA diving in the Cayman Islands. Do not attempt to do more than you are able to do, and be aware that some preexisting medical conditions can be exacerbated when snorkeling or diving. There is a hyperbaric chamber available for victims of decompression illness.
The quality of medical care in the Cayman Islands is, in general, comparable to that which you would receive in the U.S. The main medical facility of the Cayman Islands is the Cayman Islands Hospital in George Town (

(345) 949-8600

. Payment may be expected in cash, regardless of whether you have medical insurance. For minor medical issues, it's best to avoid the hospital and the insurance hassles that may evolve. Instead, visit the local pharmacy.
For emergency police, fire, or medical assistance, call 911.
Cayman Island Airport Information
Cayman Island Airport Information The Cayman Islands' main passenger airport, Owen Roberts International Airport (GCM), located on Grand Cayman, is serviced by a number of major airlines including American, Continental, Delta, Northwest, Air Canada, British Airways, and Cayman Airways. Guests traveling from Newark, Detroit, Atlanta, Chicago, Houston, Boston, and Miami may be able to fly direct. Cayman Airways and Cayman Express also provide inter-island service between Grand Cayman, Little Cayman, and Cayman Brac. Every person entering the Cayman Islands should be in possession of a valid passport and a return ticket. Citizens of the US and Canada can be admitted without passport, but will need photo ID and a birth certificate. Please keep the pink immigration slip given to you upon arrival; it is the equivalent of a tourist ID card and you will need to present it when departing. There is a US$25 (CI$20) departure tax for the Cayman Islands; this is usually included in the price of your airline ticket. The Cayman Islands Department of Tourism has a Visitor Information booth in the Customs hall of the airport which is fully stocked with current tourist publications and brochures. For more information on the Cayman Islands airport, call ( (345) 949-7811 ).
Cayman Islands Weddings
Cayman Islands Weddings
Couples who want an exotic destination wedding should certainly consider the Cayman Islands. Whether you're looking for a traditional wedding in a small chapel or grand resort, a garden wedding at the Queen Elizabeth II Botanic Park, a barefoot wedding on Seven Mile Beach, or a waterfront wedding on the pier at Rum Point, the Cayman Islands offers the perfect setting to tie the knot. With a number of wedding professionals ready to help you with everything from flowers to paperwork, getting married in the Caribbean couldn't be much simpler.
Unlike on many other Caribbean islands, visitors to the Cayman Islands can get married on the day they arrive. You will need to make arrangements ahead of time to complete the paperwork and sort out the details. A special license must be granted by the Cayman Islands Governor for non-resident couples. You should make arrangements for a Cayman Islands marriage officer before applying for the license. Other requirements include proper documentation proving citizenship and age (passport or birth certificate) and marital status (proof of legal divorce decree or death certificate if spouse has died); and Immigration pink slip showing legal entry into the Cayman Islands. You must be at least 18 years old to get married here without parental consent.
A Cayman Wedding brochure entitled "Getting Married in the Cayman Islands" and containing complete guidelines and information is available from Government Information Services, Cricket Square, Grand Cayman.
Cayman Islands Transportation
Cayman Islands Transportation
Guests of Cayman villas will want to get around the island a bit to make the most of their vacation. If you plan to travel infrequently and are in a small party, i.e. 2 people, then you might choose to just use taxis; however, in most cases, we recommend getting a rental car so that you can really see all that the island has to offer. There are a number of rental car agencies on Grand Cayman. You'll need a provisional driving permit, which will be issued to you when you rent a vehicle. During high season, cars should be reserved months in advance. CaribbeanDays will gladly reserve a car for guests of our villas - just ask!
Keep in mind that we drive on the left side of the road in the Cayman Islands. Once you get used to driving on the left, driving here is easy and safe. The road system is one of the best in the Caribbean, with most of the roads paved and most major roads lit at night.
If you want to visit the other islands, Cayman Airways and Cayman Express provide inter-island service between Grand Cayman, Little Cayman, and Cayman Brac.
Cayman Islands Weather
Cayman Islands Weather
In general, the Cayman Islands experience nice, tropical weather year-round. Average temperatures hover around 80-83oF, with average highs reaching 87oF in July and August. The trade winds blow continuously, keeping you comfortable even in hot weather. The peak travel season runs from December to April, with the rainy season from May to November. Many regard the wet season as the best time to visit, as accommodations are cheaper, the beaches are less crowded, and the rain comes in short, sharp bursts that do not usually put a damper on your vacation. Between June and November, keep an eye on weather reports in the days before travel, as it is hurricane season. While the risk of a hurricane striking while you are on vacation is actually quite slim, we do recommend that you take Travel Insurance to protect your vacation.
Cayman Islands Telecommunications
Guests of Cayman Islands villas shouldn't have any trouble keeping in touch with the outside world. Most Cayman villa rentals have phones with direct international dialing as well as cable or satellite televisions. Some villas have internet capabilities as well.
The phone system here is similar to the US, with a three-digit area code (345) plus seven digits. You may find that it's cheaper to dial internationally using a phone card; they're available at the Cable and Wireless office in George Town, at post offices, and some service stations.
If you want to catch up via the internet try visiting one of the island's numerous internet cafs: Cable & Wireless (

(345) 949-7800

), Caf del Sol (

(345) 946-2233

), CyberCOMP (

(345) 946-6982

), Dickens Internet Caf (

(345) 945-9195

), or PC Powerhouse (

(345) 946-1818

). Direct dialing from your personal computer is also possible, just dial (

(345) 976-4638

). No password is required and the cost is CI$0.12 per minute.